Glengarry Education Centre
The Glengarry Education Centre is the hidden gem of The Boys' Brigade Queensland. The centre is located in the Lockyer valley on the shores of Lake Atkinson (near Lowood) a short 1 hour journey from Brisbane.
Glengarry is a great venue for a wide variety of day, week and weekend recreational, social and sporting activities. Glengarry is ideal for schools, youth groups, Boys' and Girls' Brigades, Duke of Edinburgh groups and churches.  The Centre can also be used as a hub for a variety of land and water based outdoor activities for campers to enjoy. You are only limited by your imagination!
Glengarry appeals to the budget conscious camper by providing the ability to self-cater. However, if you prefer, catering can be arranged for your stay. If you are interested in making a booking please contact our campsite administrator who would be delighted to discuss your needs and give you a guided tour of the Centre's facilities.
CONTACT
Ian Walters - BB Qld Property Director / Campite Administrator
370 Watsons Rd, Mt Tarampa QLD
Phone number
(07) 5427 9176
Email
glengarry@brigadeaustralia.org
Glengarry Accommodation
The Glengarry Education Centre caters for groups of all sizes. The Centre offers multiple styles of accommodation which are booked and operate separately. The two styles of campsite presently available are our Lakeview Campsite which has cabins and tent and caravan sites available or our Outdoor - Mountainview - Campsite which has tent and caravan sites only.
Ensuited Cabins - Lake View Campsite
Ten ensuited cabins (including 2 disabled access cabins) which have accommodation for up to 12 campers per cabin (8 campers + 4 leaders) with two separate leaders rooms and breakout area.
Tent Camping - Mountain View campsite
The Glengarry Education Centre offers a landscaped tent camping site, complete with an undercover cook base area which includes fridge/freezer, hot water and wash up area. Gas BBQ and Fireplaces are also available. Separate male and female showers and toilet blocks are part of the tent camping area.
We are currently developing a bush camping site, details as this comes to fruition.
Day Use & Camp Visitors
Day visitors are always welcome to the Glengarry Education Centre.
Facilities
Multi-purpose Hall
Ideal for a variety of indoor activities. Seating and tables are available for all groups that use the facility.
Kitchen
The modern kitchen facility is attached to the main hall and includes modern gas appliances, a walk-in coldroom, fridges and chest freezer, and an electric Pizza Oven. A range of appliances and cooking tools are also available for use by catering staff.  Plates and cutlery are supplied for 150 camper.
Scullery/Wash Up Area
A fully equipped modern dishwasher is supplied to assist with washing up.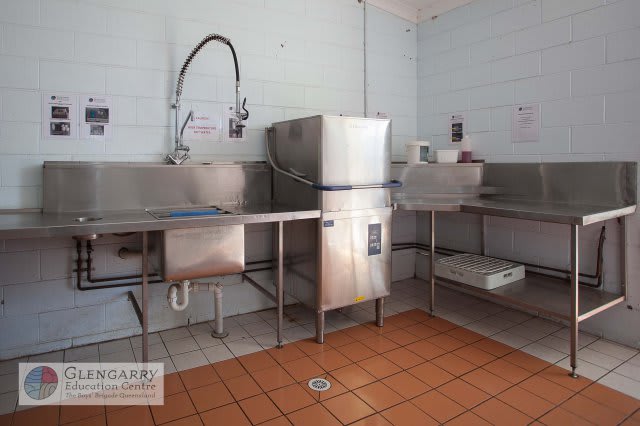 Open Shelter Area
There are 2 open shelter areas available for both day and night activities. The open shelter areas are an ideal gathering point.

Campfire
An area is set aside for evening camp fires. This is subject to any fire bans or restrictions which may be in place at the time.
Activities
Outdoor Activities
BMX Bike Course
A number of BMX bikes are available for use on the BMX bike course.
Obstacle Course
Groups can tackle the challenging 19 element obstacle course.
Archery Range
Campers can test their skills at the archery range. This activity requires notice to be given at time of booking to enable us to arrange appropriately qualified instructors.
BloKarts
Fun and unique, BloKarts are sure to be a camp favourite! BloKarts available only by prior arrangement and may attract additional charges. Contact the Caretakers prior to your camp to avoid disappointment.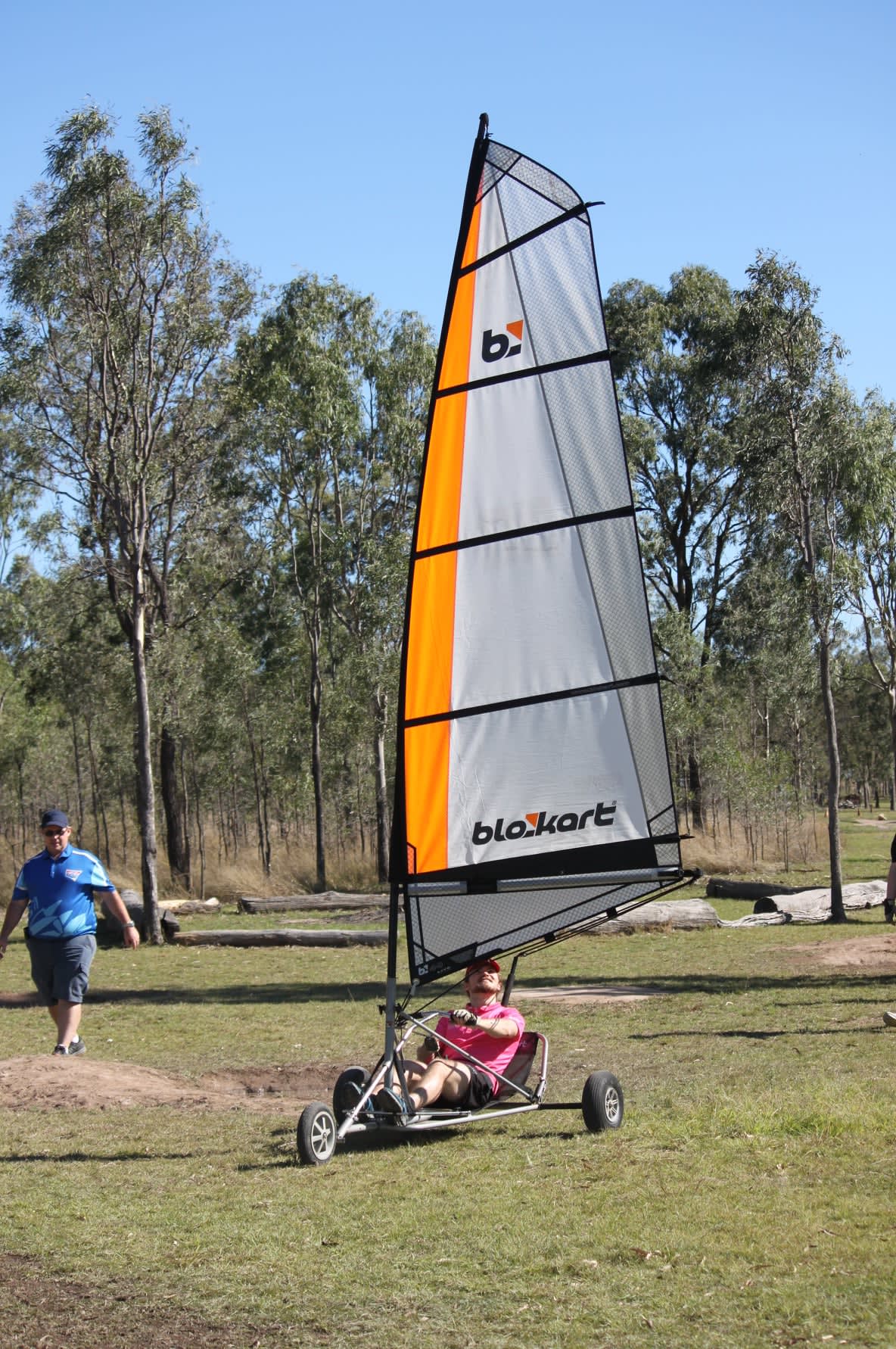 Canoes
Canoes, are available free of charge to groups using the Centre. Lifejackets must be worn. (Click here for dam levels, and here to see water entering the dam.)
Multi Purpose Ball Courts
Book to use our new Multi Purpose Ball Courts. Sports available include Basketball, Netball, Volleyball, Tennis, Badminton and Futsal. 
Outdoor Activity Suggestions
There is lots of open space for outdoor activities. Some activities previously run on the site include kites, rockets - both water and chemical, golf target practice (into the lake using floating golf balls) and Team Trebuchet.
Indoor Activities
The multi-purpose hall has two table tennis tables, Foosball table and a selection of table games. We also have a large screen for showing movies as well as a sound system if required
Indoor Activity Suggestions
With lots of space indoors, large groups can be accommodated. How about setting up a mini-Olympics course, and various other indoor team games.
Bookings
Weekend Bookings
Groups can arrive after 4pm (and before 9pm) on Friday and stay until 4pm on Sunday.
Weekday Bookings
Weekday bookings are available for either two or four nights during the week.
Deposits
A deposit and a completed application form is all we require to confirm your booking. A tentative booking cannot be confirmed until the deposit is received.
Making a Booking
To make a booking or for further enquiries contact the campsite administrator listed above.
Brochure
History and Memorabilia Centre
History
The Boys' Brigade was granted a lease in 1974 on a 7 hectare site on the shores of Atkinson Dam in the heart of the Lockyer valley. The purpose of gaining the lease was the establishment of a camping venue for the use of Boys' Brigade companies and the site was named Glengarry.
A small storage building and ablutions block was constructed in 1974 and an accommodation building was moved to the site in the mid 1980's
The latest phase of construction commenced in 1994 initially with the Sports Hall and has continued since that time, largely financed by many donations of materials and funds with the addition of some Government grants. A caretakers residence was moved to the Centre and the construction of the main Sports Hall and amenities annexe, the hub of the complex was completed in 1998.
Since then the construction of 10 ensuited cabins was commenced, the covered boat shed was completed, the outdoor cookbase, as well as the provision of buildings for the historical and memorabilia centre have been built. The completion and dedication of the cabins and historical centre took place in 2016.
In 2019 with the provision of a grant from the Queensland Government we were able to build two new Multi Purpose Ball Courts which cater for Basketball, Netball, Volleyball, Tennis, Badminton and Futsal
On 24 August 2019 we celebrated the 25th Anniversary of the "Turning of the Sod" which saw commencement of the construction of Glengarry as it now is. A book of the story of the construction was also launched on this day. Hard and Soft copies are available through the BB Qld office.